Seferino Cotzojay is the winemaker at White Horse Winery and is one of the nicest and most sincere winemakers I know. And when I saw a chance to taste one of his wines, I was thrilled to do so. While at the Eastern Wineries Exposition, I happened across a bottle of his newest White Horse Chardonnay. I don;t usually review anything that says American on it. That means it's outta state fruit. I don;t mind if its east coast fruit....say if a New Jersey winery uses New York, or Pennsylvania or Maryland or even Virginia fruit. I am less generous when it's California, Washington, or Oregon. I have nothing against those states. They make great wines. But I am not a proponent of east coast wineries using west coast fruit - unless you're doing it like Jonathan Edwards who identifies where each wine comes from, and who makes estate wines on both coasts. The grapes herein are from Lodi, a reputable region. Regardless, I am a big enough fan of Serefino's to allow this one time transgression here at the paltry blog, for he tells me estate wines are due any second!
WhiteHorse is run by the father and son team Brok Vinton and his son B.J. Owner Brock Vinton is a successful real estate developer, who, after his service in the US Navy, he began to explore the fine wines of France, with a particular interest in Burgundy and Bordeaux in the late 1960s and throughout the 1970s He began exploring the wider world of wine after that and had visited many of the major wine growing regions, and became a particular fan of California's many regions.
According to the website, "In 2012 he tasted wines from New Jersey for the first time. Based upon his experience with fine wines, he realized the potential for making wines in New Jersey which could compare favorably with anything from Europe and California. This led to his 2013 purchase of 40 acres near Hammonton, in Camden county. He and his son B.J. have built a complete modern wine making facility, initially planting 18 acres of grapes. Currently 19 acres have been planted in 10 different grape varieties (Merlot, Cabernet Franc, Chardonnay, Vidal Blanc, Chambourcin, Albarino...) . Having acquired additional land, they plan to ultimately have vineyards covering 60 acres."
Brock J. Vinton II​ also known as B.J. as a young man had wanted to start a boutique wine importing business. At the age of 16, he worked in the vineyards and cellars in Cognac, France. He later studied in Bordeaux and worked in Beaujolais. He completed an undergraduate thesis on the future of the micro-brewing segment of the brewing industry. After college he went to work in manufacturing R&D, eventually started an engineering company and among other projects developed and patented a wind turbine.
​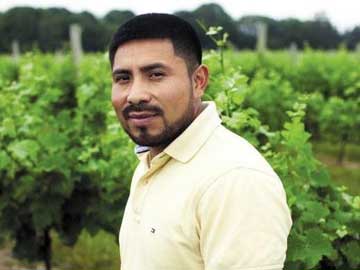 ​
Seferino Cotzojay, a Guatemalan native, started his winemaking career on the eastern end of Long Island, NY, one of the country's top growing regions. Working with several different winemakers, Seferino quickly learned the complex nuances of the winemaking process. His passion and dedication to his craft soon made him the Assistant Winemaker at Bedell Cellars, an award winning winery whose wines have been served in The White House. With his more than 10 years of experience in the winemaking industry, we are pleased to announce that Mr. Cotzojay is bringing his unique combination of old and new world style wine making to White Horse Winery. Seferino has been featured in several publications including the Wall Street Journal.
I found this bottle on one of the table during the awards dinner and was quite thrilled! This White Horse Chardonnay Barrel Fermented 2016 was much more reflective of the east coast thn the west coast. It had a lovely, light flavor to it, more red apple than green apple, none the less, it's acidity was still east coast pop! It had some nice mineral flavors that complimented the big tropical notes that one might expect, especially pineapple, melon, and citrus. A lovely creamy finish to a nice light, drinkable Chardonnay.
Huge fan of Seferino's. His arrival in the taste instantly places him in the top five of winemakers due to his track record. And it could mean huge things for this small wine producing state. I and can't wait to taste the soon to be released estate wines from this exciting new quality producer in New Jersey!
Very exciting an interesting. Keeping my eyes on the lookout!