These days August Deimel looms large over the Finger Lakes. His name is popping up everywhere. He is by turns impish, funny, emphatic, playful, cajoling, intellectual, and clever. One can be somewhat reminded of Tom Hulce's portrayal of Mozart in Amadeus. Truth be told, he is the boy genius grown up. And the comparison with Mozart isn't that far off. This young winemaker from Keuka Spring Vineyard is playing his sweetest music in his most recent release of wines, and his compositions ranges from soft and pretty, to playful, to majestic.
According to his company biography: A polymath, raconteur, intellectual-at-large, bon vivant, and Steelers fan, August Deimel came to winemaking the usual way: accidentally. Having studied the Great Books at St. John's College in Santa Fe, NM he followed the well-trod path of liberal arts majors into retail sales, taking a job at a wine shop in Baltimore, MD. His passion for wine quickly took him on a whirlwind tour of the wine industry, selling wine for a distributor in Washington, DC
and working a harvest for Goldeneye Winery in Philo, CA. Of course, all of this was done
while exploring careers in the theatre and politics as well. But eventually decisions must be
made, and in 2010 August concluded that winemaking was his first and greatest passion and it
was time to commit to a path. He crossed the Rubicon (or was it the Susquehanna?) to attend
Cornell University where he received his Master's degree, studying Enology in the Department of Food Science and Technology.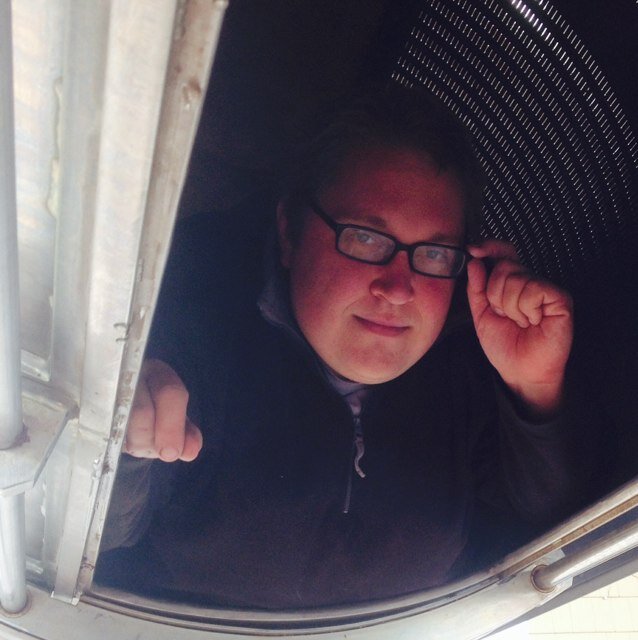 The many faces of August Deimel
(Terriorist; East Coast Wineries; Twitter; Keuka Springs Vineyards)
After graduate school, he took up the position of winemaker at Adams County Winery in Orrtanna, PA where he produced some nice wines while achieving immortal infamy for appearing in a series of promotional videos on YouTube (Yes, Virginia, acting classes can pay off!) But his time in the Finger Lakes while at Cornell left an indelible impression. Unable to resist its pull, he returned to the region like a swallow to Capistrano in the spring of 2012. He took up the winemaking duties at Keuka Spring Vineyards,assembled a crack team and, with the dedicated leadership of the Wiltberger family, set out to create the benchmark wines for America's next great wine region.
(Keuka Springs Vineyards)
His first Riesling promptly won the 2013 Governor's Cup for the best wine in New York State and in 2016 Wine and Spirits Magazine declared Keuka Spring one of its Value Brands of the Year. In addition to his winemaking duties, August is doing his part to develop the next generation of wine professionals in the region by teaching enology at Finger Lakes Community College. He is a proud resident of the great city of Geneva, NY.
A pretty interesting resume. But the musical reference still sticks. At Keuka Spring's tastings at NY Drinks NY this last March, Deimel played some of his greatest hits, a lineup as nuanced as any concerto, and his wines have both melody, beat, and are memorable. The first two wines led off like Beethoven's Fifth Symphony. These were big, loud, aromatic bombshells.
Keuka Spring Gewurztraminer Dynamite Vineyard 2017 was an explosion! The fruit was harvested from the Dynamite Vineyard in October of 2017 and bottled in March of 2018. The nose burst out of the rim of the glass. Layers of lychee, roses, and pineapple dominate the nose, with slight whiffs of apricot, peach, and honeysuckle. The wine is light and layered, with much complexity, and a lovely grapefruit ending. Spectacular. Easily one of the best Gewurztraminers on the east coast!
Keuka Spring Gewurztraminer 2016 was another fabulous wine. This wine is no longer available, but the wine was spectacular as well. Again lychee and pineapple dominate the nose, but a little less aggressively than the Dynamite Vineyard. There are softer floral notes, lovely hints of peach and apricot, with a lovely citrusy ending. Another notable Gewurztraminer, notable unto itself. Again, one of the better ones on the east coast.
The Keuka Spring Riesling Humphreys Vineyard 2017 was another lovely wine. This was an already accomplished wine. It earned 91 pts. from Wine Enthusiast Magazine. Humphreys Vineyard, located on Seneca Lake, is meticulously managed by Harry Humphreys. According to Keuka Spring, "Its unique east-west orientation creates clean and delicious fruit and consistently balanced and intense Rieslings." This dry Riesling started with lovely green apple, with hints of peach, apricot, and some lovely tropical notes. Also whiffs of petrol. It ended with a lovely, citrus-y ending, notes of orange and lemon zest, and hints of grapefruit. Absolutely lovely!!!
The Keuka Spring Riesling 2017 was also memorable. It earned a score of 90pts. from Wine Enthusiast. This light, affable "off-dry" Riesling delivered fresh cut white peach, Granny Smith apple, and lovely tropical and floral notes. It was layered and complex. An absolutely lovely wine!
The Keuka Spring Dry Rose 2018 was wonderful! Deimel used the saignée process to bleed juice from the red grapes right after crushing to limit tannin extraction. They then fermented
particular sub-lots of juice in neutral barrels with simultaneous malolactic to round out the texture and add richness. It is a blend of Lemberger, Cabernet Franc, Merlot, and Cabernet Sauvignon. 30% is barrel rested. Strawberry and bright cherry pulse out of the glass, with hints of tropical fruits. A lovely wine ensues, with light green apple, fresh pear, and lovely cherry and strawberry flavors as well. A hint of lime and then a creamy finish with cherry lingering. Wonderful!
Keuka Spring Lemberger 2016 (god, I wished they called it Blaufrankisch) is a blend of grapes from Keuka Spring Vineyards and Anthony Road Wine Company. The wine was fermented 100% in bins with delayed sequential malolactic fermentation, followed by aging in FlexTanks. The idea is to produce a fruit forward presentation, deeper than Pinot Noir, edging somewhere towards a Loire Cab Franc or a lovely French-styled Syrah. Easily one of the best Lembergers I have tried of late. Lovely big cherries....bright and dark, ripe and young. Smooth middle with a lovely finish. Fabulous, fabulous Blaufrankisch! Very reminiscent of the more accomplished European versions of this grape. Fantastic!
Keuka Spring Vignoles 2017 was the absolute finisher! I LOVE Vignoles. And August Deimel's Vignoles was absolutely as beautiful and classic version of this wine as I have ever tasted. Amazing. Vignoles is an aromatic and luxurious grape developed by J.F. Ravat originally named Ravat 51 in 1930. 15% to 20% of the Vignoles grapes in this 2017 vintage was nicely botrytisized. They then fermented 85% of the juice in tanks, and 15% in neutral barrels to round out the A big spoonful of passion fruit jam launches the nose of this wine. Plums, orange zest, and lemon peel also waft through. As well as apricot and honey. The BEST Vignoles I have ever tasted!
There's no question, at Keuka Spring, August Deimel is hitting all the right notes, and is putting on quite a performance.