OK, so I met the guys from Hermit Woods at the Eastern Winery expo 2017 in Syracuse, New York. I have come to know them over the last few years, but really gave their wines a real tasting just this last expo. Time for a proper review I thought to myself.
Hermit Woods is a medium-sized, impressive winery in New Hampshire. According to their website: "Old world character meets new world fruit—each of our award-winning and handcrafted wines is made from a unique combination of locally sourced fruit, honey, and flowers, in some cases wild-foraged. Our process is devotedly hands-on from vine to bottle, using old world techniques with the highest level of care and integrity. The result is wine with rich, complex flavors. All of our wines are vegan (with the exception of honey wines), gluten-free, raw, and mostly organic to Best Management Practices...."
Hermit Woods Winery have a solid reputation that has resulted in their becoming one of northern New England's most sought-after artisan brands.
And that's why these guy are so interesting. Number 1, you see them everywhere. They hit every bar, restaurant and party. These guys love to laugh, eat, and drink and have fun. But the more impressive thing to me was that in every interesting exchange during the past EWE 2017, one of these guys was always involved. And when they spoke, a lot of people listened. The winery folk in the northeast have serious respect for what these guys do. That's impressive.
The name Hermit in the Woods is named for Joseph Plummer, the far-famed hermit of Meredith Woods, who was born in Londonderry Oct. 28, 1774. According to the website: "His parents, Jesse and Sally Plummer, soon after his birth came to Sanbornton and settled with six children. Subsequently they moved into Meredith, but returned after some years and both died in Sanbornton in 1824, the Father being 82 and the Mother 85 years of age at death. They were always very poor but respectable people, and reared a family of ten children, Moses, Nathaniel, Jesse, Amos, Nathan, Joseph, Stephen, Parker, Sally and Polly, all deceased. They were all, with the exception of the Hermit, persons of good standing and good property."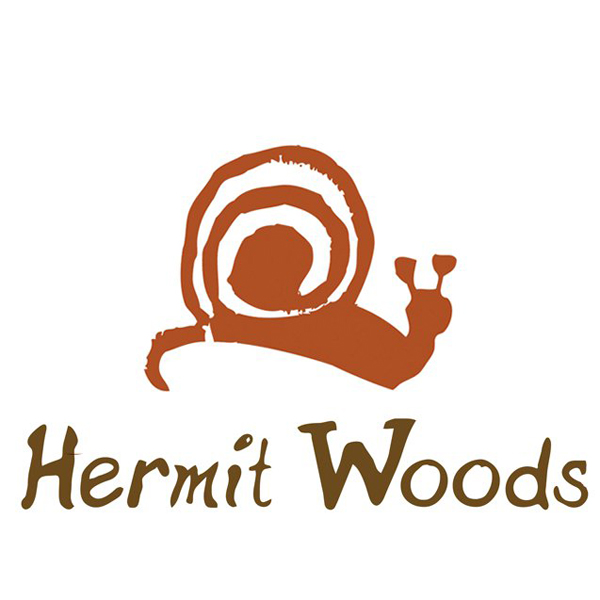 Why a snail on the label? "When we decided to call ourselves Hermit Woods Winery, the first thing we told our designer was "No hermits on the Label!" So Don, our designer began identifying graphics that represented the other creatures you might find in the woods. This was when he came upon Susan Riecken's snail. We all instantly fell in love with it, not only was it graphically interesting, we all felt the snail was the perfect representation of the slow process that making wine is." Cool.
There are three partners at Hermit Woods Winery. Bob Manley, Chuck Lawrence, and Ken Hardcastle. These are three accomplished and interesting guys.
Ken Hardcastle loves to ferment. He's a professional geologist who was born in Stoneham Mass, but grew up in So. California. He attended Occidental College, went to NYC for his Masters, and then to western Mass (UMass Amherst) for his PhD in structural geology. He started off making beer in the 1990s, then mead, then wine.
Bob Manley grew up in Rhode Island. Shortly after high school, he moved to California where he graduated from California Institute of the Arts and married his wife Jerilyn. Bob and Jerilyn visited hundreds of wineries from San Diego to Northern California and even a few in Oregon and Washington. It went from a hobby to a passion. Then they moved to New Hampshire. He is a architectural and commercial photographer and runs a small boutique graphic design firm, bobdonpaul.com.
In 1997, Bob met Ken Hardcastle and Chuck Lawrence. According to Bob, "We have spent many hours getting to know one another and pursuing our passions, one of which was wine; drinking, learning about, and the making of. Before long, the three of us were making wine from grapes, other wonderful fruits and honey, and planting a vineyard."
Chuck Lawrence was born in Exeter, NH and raised in Newfields and Tilton, NH. He attended local New Hampshire schools, including University of NH in Durham, majoring in Forest Management.
Chuck's ancestors were among the early settlers of New England arriving as early as 1630 in Portsmouth, Newburyport, and Boston. Chuck biked through France, Switzerland, and Germany at age 14, and again after college he toured Europe again. He became passionate about road bicycle racing, and joined the cycling teams at Cardigan Mountain, Tilton, and the University of NH. He was the first US National Collegiate Road Cycling Championship in State College PA in 1985 for the University of NH. He also trained at the Olympic Training Center in Colorado Springs as a member of the US National Cycling team. A professional aviation pilot, he was a bush pilot, and in 2000 he was hired by United Airlines to be a Boeing 737 pilot.
These guys are incredibly cool and accomplished. And while they love to have fun and live life, they are incredibly passionate about their winemaking.
The first wine I was truly attracted to was the Hermit Woods Petitie Blue 2015. This was a blueberry wine, and at first I was reluctant. I was trying red wines, and I didn't want to taste a fruity dessert wine. My fears we immediately dismissed!
The wine is made with small, whole, wild, lowbush blueberries from Merrill's Wild Blueberry Farm in Ellsworth Maine. Yes, blueberry is the overwhelming essence that bursts out of the glass. They use a cold soak process, partial carbonic fermentation, whole berry approach, low fermentation temperature, and reductive process to make a quality dry red wine. The wine is Rhone-ish in style. It's a medium-bodied wine with blueberry, plum, and cherry with nice notes of vanilla and spice. In July, 2014, Ray Isle, the Editor of Food and Wine Magazine, shared Petite Blue Reserve with Kathie Lee and Hoda on the Today show. Why? Because it's one of the nicest red wines in the north east you're going to try! Hermit Woods immediately joins the ranks of one of th best fruit wineries on the east coast!
I tried a number of their wines, but I didn't take enough pictures or notes! But another stand out, at the other end of the spectrum was the Hermit Woods Deep Blue 2015 is a un-filtered dessert blueberry wine. It's a big, intense blueberry wine, like a liquid blueberry pie. Incredibly well balanced, evening off an intense sweetness with a nice counter of acidity. The guys calculate that there's nearly a pound of wild, low bush blueberries in each 375ml bottle.
Tasting these wines, immediately impressed me. And for as much as these guys were always having a ball at the convention, they were always in the center of the conversation. And tasting their wines, I now know why! Hermit Woods is one of the best fruit winemakers on the eastcoast!
Get there now!