So I was rummaging around the basement for a white wine to have with a block of Old Chatham Sheepherding Company Camembert-styled cheese when I came across this bottle of Chamard Chardonnay Estate Reserve 2007. I would like to tell you I had been holding onto it for a reason, but it seemed instead to have stayed hidden. I didn't even know I had it. A sign, yes, that I have too much wine!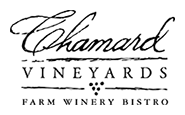 Chamard is one of the older wineries in Connecticut. I've been going there since I graduated from college (just after the Civil War). Chamard was founded in 1983, but the main building wasn't finished until 1988, Chamard Vineyards is among the prettiest of New England's wineries.Located in Clinton, Connecticut, like the North Fork, they are only influenced by the moderating temperatures of Long Island Sound.
According to the website, "The first vines were planted in the spring of 1984, a five acre vineyard consisting primarily of Chardonnay with a small quantity of Cabernet Sauvignon and Pinot Noir. From 1986 through 1992 the remaining acreage was prepared and planted, for a combined total of 20 acres. The winery was completed the summer of 1988 when Chamard became a licensed farm winery. The first wine, a 1988 Chardonnay was released for sale in November of 1989."
I bought a bottle of that chardonnay, and I have been buying their wine ever since.
The farm is 40-acres, with 20 acres under vine. They grow Cabernet Franc, Cabernet Sauvignon, Chardonnay, Merlot and Pinot Noir fruit. Current production is 10,000 cases annually. Chamardhas been a quality focused producer from the start, and has been among the class not only of Connecticut producers, but of New England's as well.
So, anyway, I brought the bottle upstairs and dusted it off. We opened it with some trepidation, never really sure if any chardonnay (from any region) will stand up to 10 years worth of cellaring (especially in my clumsy hands).
The wine was exquisite! Beautiful tropical fruit notes supported an overwhelming aroma of honey and apricot. There was some oxidation but only a trifle, which added complexity. The wine was nowhere near being past it's prime, and had wonderful flavor and acidity. It was both complex and beautifully balanced. Quite amazing!!!!
We also nosed our glasses, and we all smiled. The wine was wonderful, and it was beautiful with sliced apple and Camembert!
A tremendous job!!!!! Need to buy a few more bottles!!!! And so do you!