I first started visiting Stonignton Vineyards back in the early 1990's. They were an outpost in wine making back in those days in the North Stonington area of Connecticut. They made Seaport White, a white blend and a host of other hybrids. Very nice, respectable wines. Always drinkable.
The vineyards were established in 1987 by newly wed couple Nick Smith (a long time international banker) and his wife Happy, but a killer frost thwarted their endeavors. On July 4th, 1987, Mike McAndrew came on board as winemaker. The wines were nice, and drinkable. Always a pleasant stop.
But better things were on the horizon. The winery proved to be a breeding grown of wonderful wine, and some serious wine was being made in the region. Around 2002 or 2003 the winery made one of it's best decisions when it hired Linda Mason as the vineyard manager. She reports to Mike, but her presence was felt, and better yet tasted, within two or three years time. It was a commitment Stonington needed to make to keep pace in the improving Connecticut wine world. And it paid off handsomely!
In the last five or six years the Smiths updated the 29 year old tasting room, and upgraded their labels as well as make outstanding wine. Today he town of Stonington is one of the premiere winemaking regions in New England. It is the North Fork of the main land, across Long Island Sound from the Long Island wine country. And Mike McAndrews recent vintages are not only keeping pace with others, but exceeding the pack in some cases. Stonington Vineyards has upped its game substantially all the way around.
Seaport White has long been a staple of summer tables in Connecticut and throughout New England for decades. This wine has won numerous awards and continue to be the winery's absolute crowd pleaser. A slightly, off-dry white bend of Cayuga and Chardonnay this stainless steel white is bright, fun, and zesty A great food wine but also perfect for summer sipping. A fantastic, easy drinking wine. Even with many more distinguished wines in the lineup Seaport White continues to impress!
Stonington Vineyard Sheer Chardonnay 2013 is a "barrel-free" stainless steel chardonnay. It is a fabulous, easy drinking white, with green apple to spare, as well as other tropical notes, and a lovely, citrus ending. An outstanding minerally white meant to impress. Fresh, crisp, vibrant.
Stonington Vineyard Chardonnay 2013 is a classic, French-oak barrel fermented chardonnay that is meant to impress. Beautiful notes of green and red apples, and Bosc pear, blend with hints of tangerine and apricot, and highlighted by other tropical fruits. A lovely mouthfeel followed with a hint of zest and a lovely vanilla toast. A nice, light, layered, complex chardonnay.
A lovely Gewurztraminer, that explodes with notes of tropical fruit and candy, but with all the acidity of a classic Gewurztraminer. A beautiful, lovely light white wine with a big nose and lovely citrus ending. Very lovely!
This lovely dry Riesling is a very, very good light white wine with lots of green, green apple, pineapple and a trove of other tropical fruits and lychee. A nice, tingling surprise, and meant to go with food, from cheese to other spicier fare like Asian or Indian cuisines. Excellent.
Capitalizing on their summer reputation and borrowing slightly from the neighbors to the south of Long Island, Stonignton has taken on the mantle of the rose' maker of Connecticut. Much like several South Fork and North Fork cousins, they make more than one rose' to keep up with the demand. The first in Pink Noir 2014. This is a salmon pink off-dry blend of Pinot Noir Blanc and Riesling. Classic notes of strawberry and lime and cream explode out of the glass. There is a hint of sweetness, but the riesling keeps the wine honest with a zesty, bright, and clean finish that keeps it from being a lollipop and instead delivers a wonderful, wonderful wine! The Stonington Vienyards Triad Rose' 2014 was a reveleation! A lovely blend of Cabernet Franc, Vidal Blanc, and Chardonnay makes for a slightly pinker salmon-colored dry wine. Again, berries pop off the nose with a big dose of lime and green apple. Here, the stainless steel chardonnay gives the wine an honest, sophisticated backbone. A very lovely, refreshing but classy wine.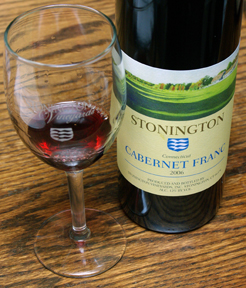 Stonington Vineyard Cabernet Franc 2012 was a big glass of ripe berries - cherry, raspberry, red cassis - with hint of earth, leather, and graphite, and tinged with vanilla. A lovely. dry red, with tremendous potential. This i the hardest wine among them to obtain! Sells out fast! A wonderful red wine!
Stonington Vineyards is a lovely, lovely visit! And the wines are imminently drinakble. My absolute favorites were the Sheer Chardonay and the Gewurztraminer, along with the Cab Franc. But I can't lie. I clearly visited in winter. If it were summer I would have brought home the two roses and the Seaport White. A great stop on your way through Connecticut wine country!