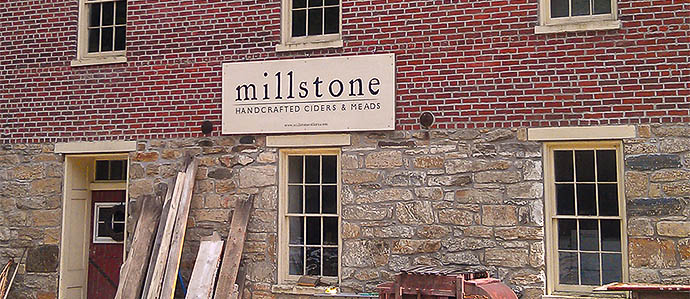 What?! What is it with all of these cidermakers?! What? What?
So I was walking the floor of the Grand Tasting on the final day of Taste Camp 2013 held in Baltimore, Maryland, in a conference room overlooking Camden Yards, with Lenn Thompson of the New York Cork Report. And like many of the other attendees we stumbled upon Millstone. The cool part was that they were a different kind of producer. They made meade and cider. Normally I am not such a big meade guy, but there are some very good ones out there these days. These folks are in Monkton, MD. The place is run by Curt Sherrer and his son Kyle.
Millstone uses only heirloom apples. Good cider apples may not make great table apples as they can be extremely acidic, tannic, some to the point of being unpalatable. Not only are these guys using heirlooms, but they are also doing some cutting edge stuff. And they take it very seriously.
"Most of the apples we work with are American heirloom varietals, as early Americans typically cultivated specific apple varietals more for hard cider than eating (averaging 52 gallons of cider consumption annually per capita). Unfortunately with the rise of monoculture these varietals are grown by only the most passionate orchardists committed to preserving our countries unique apple bio-diversity. When creating our blends we group our cider apples into four main types according to the nature of their flavor components. A truly complex and well balanced cider takes blending to create just the right balance"
Sweets - Contain high sugar levels which encourage fermentation and raise the final alcohol content.
Sharps - High in acidity and add tartness to the cider
Bitters - High in tannins, adding the bitter and astringent 'bite' to the cider.
Aromatics- Have strong bouquet, creating the nose of the cider
The Winesap was a cider made with raw honey. I was a little suspicious at first. I've had plenty of bad ones of these. But instead of the mustiness you can sometimes get from a meade, this was all apple, with a hint of honey and complexity that kept this from being something sweet and gooey, to complex and elegant. Hard to describe it really, only to say that it was like a nice, well cellared white wine. A nice citrus angle played up well here, leaving a hint of Meyer Lemon. There's some carbonation going on here. The wine is bottle conditioned. This isn't semi-sweet cider to swill. This is a fine wine. I point that out as painfully as possible, because these guys are making an artisan product that needs to be appreciated. This isn't apple juice with a shot of booze in it. Someone hand-crafted this stuff. It's beautiful. It's not to be had with burgers or with nachos, but to be served with dinner, fish, especially poultry, especially roasted chicken or chicken paillard. And maybe a nice salad? Lovely wine.
This guys approach meade like winemakers approach wine. They vinify it and they treat it with wood. Their single barrel dry hopped mead is crafted from bittering chinook hops and raw clover honey. Robust and full flavored nectar bottled unfiltered, preserving the purity of its ingredients. The wine is hazy, and scented with hops. But boy, was it different and it was good! Very complex, without being too funky. We both really enjoyed this.
Ciderberry was a real show stopper. This an oak aged cider, made from Rome Beauty and Stayman Winesap an then they add raspberry wine pressed straight from the farm and blended with that oak aged cider. Fruity and tart, the acidity keeps this wine honest, and makes it into a lovely rose' styled wine instead of a funky, sweet blush. A complex wine.
Overall, a very good impression was made. And some excellent wines. This is a cidery and meadery to look out for. Big things are going on in Monkton. Who knew?
Nice write up from another blogger here....read more at:
http://alongcameacider.blogspot.com/2014/02/cider-review-millstone-cellars-cider.html