It is official, California winemaker Paul Hobbs and German wine producer Selbach-Oster are planning to open up a winery in the Finger Lakes.
Award winning journalist Evan Dawson first broke the news on the New York Cork Report. James Molesworth also published a piece in Wine Spectator. It's two great wine writers reporting the news. Fun. And either way you slice it, it's good for the Finger Lakes and it's good for New York state.
- C. DeVito, Editor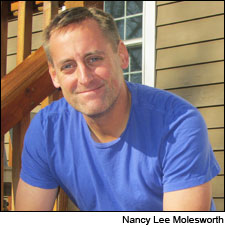 "The Finger Lakes wine region of New York, which has steadily improved in recent years with Riesling as its lead variety, is drawing increasing attention from outside vintners. Paul Hobbs, whose eponymous California winery produces outstanding Cabernet Sauvignon, Pinot Noir and Chardonnay, and Germany's Johannes Selbach of the Mosel Valley's Selbach-Oster have announced a new joint venture in the area," reported James Molesworth in the Wine Spectator.
Molesworth also wrote, "

Hobbs and Selbach are not the first outsiders to stake a claim in the Finger Lakes, but this combination of California and German vintners is the most high-profile to date. Louis Barruol of the Rhône Valley's Chateau de St.-Cosme has started his Forge Cellars label with local Finger Lakes investors, while winemakers Morten Hallgren of Ravines and Johannes Reinhardt of Anthony Road moved to the Finger Lakes after previous winemaking stints in Europe."
"Hobbs is a high-wattage industry professional known for his work around the world, and particularly in California. He makes wine in a winery under his own name in Napa, and also makes California wine under his
Crossbarn Winery
label. His
Vina Cobos
produces malbec and other varieties in Argentina, and Hobbs also runs an importing outfit," wrote Dawson in the New York Cork Report.
"So why the Finger Lakes? Hobbs is from the Niagara region, and told
The Drinks Business
:
"We are starting from scratch, and we are preparing the land now," he recorded, adding that he spent three years surveying the area before finding this site.
Speaking of the style of wine he plans to make with the help of his German partner, Hobbs said he would make an off-dry riesling.
"We will definitely make some wine in the Mosel style," he admitted, adding, "but we will be trying dry Riesling too."
"It won't happen right away. Various reports have the Hobbs property – just north of Watkins Glen – as being more than 60 acres, and the first step was clearing the land. It will take several years before the vines can bear wine-worthy fruit," continued Dawson.
You can read both stories. They are both good.
Read Dawson's whole article at:
http://newyorkcorkreport.com/blog/2014/01/16/consultant-winemaker-paul-hobbs-with-well-known-german-winemaker-launches-finger-lakes-project/