The holidays are fast approaching, and you and family and friends will soon celebrate gatherings across North America. You will be toasting because you are thankful or celebrating the season. You will be toasting the passing of the old year, and the bringing in of the New Year.
And what better way to do so than with sparkling wine? Sparkling wine makes every occasion a special occasion. What would make it more special is to celebrate the season with LOCAL sparkling wine. What a great way to celebrate the bounty of this fine nation than with wine not only made in the US, but made in your region as well?!
I have put together a list of producers who make some of the best sparkling wines on the east coast!

While there are a great many wineries that sell a sparkler, I could not include all of them. They are in no particular order. This selection tends to feature wineries who focus on sparkling wines or have a serious sparkling wine program. These are in my estimation the best producers of such wines. Whether you like classic, elegant dry bubbly, fun, fizzy wine, or sweeter, prosecco-styled wines, there is something on this list for everyone!
And tell them I sent you! And by the way? Cheers!!!
Sparkling Pointe (NY)
One of the premiere sparkling wine makers on the entire east coast. A favorite of Howard G. Goldberg of the New York Times. The winemaker is Gilles Martin, who was born and reared near the Champagne region of France. He produces a bright, elegant style that is, according to Goldberg, " generally light, delicately fruity and animated by fine pinpoint bubbles."

From 1990 to 1996, Mr. Martin was the assistant winemaker at Champagne Louis Roederer's Roederer Estate, in northern California. Fabulous Blanc de Blancs made from 100% chardonnay. Also, lovely Brut and Brut Séduction, great yeasty nose with long, lingering finish and lots of fine, fine bubbles. The rose sparkler nonvintage Topaz Impérial is a wonderful wine that has incredible balance. A lovely wine.
Westport Rivers Winery (MA)
Westport Rivers in Massachusetts makes one of the best sparkling wines on the east coast with their Brut RJR. Their stunning sparkler (has been served in 3 White Houses( has rightly won praise and award from around the world.

The Westport Brut "RJR" has won 9 Gold medals from San Francisco and San Diego to the east coast. And has won a hefty 37 gold and silver medals. Bright golden yellow color. Aromas of toasty brioche, peach marmalade and lemon curd with a crisp, dryish light-to-medium body and tart, mouthwatering roasted citrus, green apple skin and mineral accents on the finish. Very vintage Champagne like. The Blanc de Blancs is beautiful. Crisp, green apples and dry toast are luscious. Zippy acidity and a dry finish combine to create a wonderful balance of fruit, yeast and acidity. Add another 15 medals for this wine. NV Farmers Fizz is a blend of 60% Pinot Noir, 34.4% Chardonnay and 5.6% Pinot Meunier. Toasted brioche, baked pear and fresh apple aromas come across as promised. A slight, slight hint of sweetness tempered by great acidity and finished with a hint of caramel. Fabulous and fun! "Westport really seems to specialize in these kinds of ultra-versatile food wines…for my money, they're the best thing going in the Northeastern United States by a fairly wide margin," opined Fringe Wine (fringewine.blogspot.com)
Chateau Frank from Konstantin Frank (NY)
In 1962, merely a decade after arriving in America, Dr. Konstantin Frank founded Vinifera Wine Cellars. The winery quickly earned a reputation for spectacular Rieslings and its original planting of vines formed the backbone of New York's world-class wines and champagnes. Dr. Frank's son, Willy Frank continued the tradition of excellence and determination. Willy amazed the industry in the late 1980's by releasing an exquisite sparkling wine made at his very own Chateau Frank.

Chateau Frank adheres to the "methode champenoise" using the three classic French Champagne grape varieties successfully creating another first for the Finger Lakes Region of New York – world class sparkling wines.
Chateau Frank Blanc de Blancs is a great example of the traditional Blanc de Blancs style with complex and delicate flavors. Chateau Frank Blanc de Noirs is a rich and complex sparkling wine with great structure and length. Chateau Frank Brut is made in the classic Champagne-style, which features apples and pears, whiffs of toasty yeast, and lots and lots of tiny bubbles. Chateau Frank Célèbre (NV) is a delicious, fruity Crémant style sparkling wine is very inviting and easy-to-drink.

Chateau Frank Célèbre Rosé (NV) is a Crémant style Rosé sparkling wine that offers lovely red berry aromas. Pink and fabulous and filled with fruit, but finishes dry! Tracey Weiss of the New York Cork Report of the Blanc de Blanc, "This hits my 3 G's: Great Beading, Green Apples, and Grand Minerals. A longer finish, deep richness, good body with a happy acidity."
Clinton Vineyards (NY)
Clinton Vineyards was established in 1976 by Ben Feder, a Bronx-born book designer and artist who fell in love with New York State's Mid-Hudson Valley. Ben was part of the Mad Men scene of the 50s and 60s. A WWII vet and a Madison Ave star, he modeled the 100-acre Clinton Vineyards in the tradition of European vineyard estates, and chose to specialize in producing white and sparkling wines, the latter made in the classic French méthode champenoise. The first release, the 1977 Seyval Blanc, garnered strong praise from The New York Times. Feder's wife Phyllis joined him in 1988. Phyllis continues to maintain her husband's legacy. Clinton Vineyards is a high point of any trip to Dutchess County.
Jubilee is a sparkling méthode champenoise wine of 100% Seyval Blanc grapes that offers an elegant experience for the palate, with apple, vanilla, dried fruit and citrus notes. This is a premiere sparkling wine….period! Seyval Naturel is a unique 100% Seyval sparking méthode champenoise wine that offers bright, zippy green apple and pear. A great, refreshing sparkler. Royale is the Clinton version of the classic aperitif kir royale, which combines their Seyval Naturel with Nuit, their 100% black raspberry wine. Wonderful and festive! Peach Gala is a refreshingly dry, crisp méthode champenoise sparkling wine that introduces an elegant bouquet of white peach that is delicate on the palate. A fabulous brunch wine!!!! "Crispy, with brighter acidity than expected. Smooth, lemony with a beeswax finish. Thus far my favorite way to experience Hudson Valley seyval," wrote Tracey Weiss of the Jubilee for NY Cork Report.
Brotherhood, America's Oldest Winery (NY)
Brotherhood, America's Oldest Winery makes lovely sparkling. They've been doing it since 1839. The Grand Monarque is aged for a minimum of 2 years before disgorging, producing a Brut with rich flavors and aromas bathed in tiny long-lasting bubbles. This elegant and gorgeous. One of the best of the fine, classic champagne-styled sparklers on the eastern seaboard. Carpe Diem is a unique sparkling wine is made from Muscat grapes, one of the world's oldest known grape varieties. Handcrafted with great fruitiness, floral aromas and a hint of sweetness. Great fun prosecco style!



Brotherhood B Sparkling Chardonnay was the winner of the Best Hudson Valley sparkling wine. This sparkling wine was fermented from 100% New York Chardonnay. Crisp acidity and bright fruit highlight this wine. Big nose full of pears and light yeasty note come through as promised. Nice minerality, and beautiful long lasting dry finish. Great wine!

Blanc de Blancs is made from Hudson Valley Chardonnay grapes. A very solid bubbly – soft but with great finish. Well balanced. Lovely.
Thibaut-Janisson (VA)
"The not surprising news [from this year's tasting]: Claude Thibaut's wines finished in three of the top four spots, with Trump finishing in the top three," wrote FrankMorgan in his notes from the Virginia Wine Trials — 2013 Sparkling Wine Blind Tasting Recap. "Crisp, vibrant, an absolute joy of a wine to drink…" wrote Katie Kely Bell in Forbes magazine. And Dave McIntyre wrote in the Washington Post, "The T-J (a nice abbreviation given the implied reference to Thomas Jefferson and his love of wines) has become a darling of the Washington restaurant scene, because it is both local and top quality." And Sandra Silfven wrote in the Detroit News, "This delicate, complex, finely balanced Blanc de Blanc Chardonnay is the result of two Frenchmen, schooled in the traditions of the Champagne region of France, applying their standards and talent to Virginia fruit." I think you get the idea! Their wine was poured at the first state dinner hosted by President Obama.
Thibaut-Janisson Cuvée D'Etat is their top of the line sparkling wine. Elegan. Complex. Fascinating. Incredible. One of the best of the entire east coast! Classic Champagne-style sparkling wine.
Claude Thibaut and Manuel Janisson bring to their sparkling wines generations of tradition from the Champagne Region of France. They have captured the flavors and essence of the Virginia Terroir. The Cuvee, made of 100% Chardonnay from the Monticello Appellation, has vibrant aromas of pear and ripe apples; the taste is perfectly balanced, crisp and refreshing.
Virginia Fizz is a fun and festive cremant-style wine made of 100% Chardonnay. Big whiffs of apples and peaches with hints of fresh baked bread. Think an aple/peach cobbler. Creamy and smooth, with lots of fine, fine bubbles.
Slack Vineyards (MD)
Winemaker Tucker Grube-O'Brien is assisted by Anna Ferguson and these two young wine makers, both under the age of 30, have proven to be a particularly clever pair with natural instincts of good taste. Slack White Shoals is a 100% Chardonel sparkling wine made in the classic Méthode Champenoise style with a controlled, continuation of fermentation in the bottle. Smooth, dry, incredibly well balanced. This wine was the talk of the Taste Camp 2013 final Grand Tasting in Baltimore earlier this year! Every writer was commenting on it! Fantastic!!! Slack Pink Shoals is a blend of 80% Merlot, 15% Cab Franc, 5% Cab Sauvignon from their vineyard at Jubilee Farm. 165 cases made. This wine has a big nose of fresh cut strawberries. A light salmon colored wine, this is an exceptional rose sparkler!
Bordeleau Vineyards (MD)
From start to finish, owner and winemaker Tom Shelton is involved in creating and perfecting all that it takes to make award-winning wines. After purchasing a farm in Allen, Maryland in 1998, he planted his first grape vines in 1999.
Blanc De Blancs (NV) is 100% Chardonnay from this family-owned vineyard. This crisp and light sparkling wine has green apple, pears, wrapped with a lemony finish. Nice notes of fresh baked French bread. Wonderful pin-sized bubbles. Had this at a dinner in Baltimore on Fells Point during Taste Camp 2013. Lovely. Elegant. Classic.
J. Maki (PA)
Ten years ago, the prestigious European wine competition, the Vinalies Internationales, put a tiny local vineyard—then known as French Creek Ridge Winery—on the map. I remember when it happened, I dragged my wife Dominique there when we went to visit her family in Chester County. I have been seeking it out every time I go back to Pennsylvania. I have a bottle in my cellar now. Now known as J. Maki, this winery has continued to make fantastic sparkling wine in the Brandywine region of Pennsylvania.
J. Maki Brut is a great, special occasion wine. Classic with green apples and a nice yeasty nose. Great bubbles. Lovely! The Blanc De Blancs is the classic sparkling wine that spawned their Gold Medal Winner in Paris, France. Ripe apples and pears, a classic toastiness, with a dry, zippy refreshing finish. An elegant sparkling wine.
Blanc de Noirs is 100% Pinot Noir. A big, full bodied sparkling wine. Big. Upfront. Big finish. The Rouge is a blend of Chardonnay and barrel aged Pinot Noir. A unique wine that has a solid corps of admirers.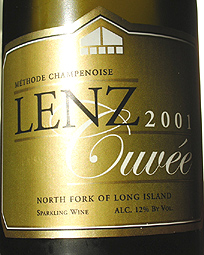 Lenz Winery (NY)
Founded in 1978, Lenz Winery has some of the most mature vineyards in the region. Lenz have nearly 70 acres planted with vinifera grape varieties including sparkling wine mainstays chardonnay and pinot noir. Sam McCullough is the vineyard manager and Eric Fry I the winemaker. And together they make some of the best wines on the east coast.
2005 Cuvée is a traditional Méthode Champenoise sparkling wine made from 100% Pinot Noir. A big nose of yeast and apple and a whiff of something tropical is delicious. This 2005 Cuvée offer bright white cherries with hints of apple and a touch of lime and kiwi. This wine has big flavor, great acidity, and tremendous refreshing finish. Brilliant!
1999 Cuvée RD - If you can believe it, this is a new release! Lenz is releasing 60-70 cases of aged sparkling...a program they have established. Fantastic. Huge kudos just for that. The French refer to Champagnes made using this 'late-finishing' process as 'RD', or Récemment dégorgé (recently disgorged). This was incredible experience. This 1999 Cuvee' was more subtle. There was a nuttiness, or an earthiness around it. Something more developed and softer. There was apple, and pear, and honey, more delicate than the 2005. It was golden and soft, more wine than fruit, but an elixir hard to describe. Lots of layering flavors, Extremely complex. This is a fixed taste. If you like aged, vintage wines, you will absolutely love this wine!
Swedish Hill Winery (NY)
Family-owned and operated by Dick and Cindy Peterson, Swedish Hill is one of the largest wineries in the region. After 20 years of growing and selling grapes to area wineries, the Petersons crushed their first grapes in 1985 and opened Swedish Hill Winery in 1986. Just 1,300 cases were produced that year; this year they produced more than 60,000 cases of award-winning wines and sparkling wines.
The Brut is their top of the line sparkling. Classic dry bottle fermented in the "Methode Champenoise" tradition. Blended from 50% Chardonnay and 50% Pinot Noir and aged on the yeast for 4 years, toasty yet with nice fruit. The Blanc de Blanc has a grapey smell, mixed with a touch of yeast. It is a very smooth semi-dry champagne. The of lemons and apples defintely come through. This sparkling wine is made from the Cayuga White grape which was developed by Cornell University for the Finger Lakes Region. It has only 2.5% residual sugar. It was excellent! It's won more than a half dozen medals across the country. The Naturel is a deliciously dry sparkling wine that is blended from Chardonnay and Vignoles. The subtle, citrusy aromas lead to a fresh, crisp finish that lingers. Loaded with fresh floral and fruity aromas and flavors, this Riesling Sparkling wine is deliciously refreshing, complex and pleasing to both dry and sweet wine drinkers. Finished with just a bit of sweetness, this sparkling wine is an elegant addition to special occasions, or try it with stir-fry or many light summer meals.
Lamoreaux Landing
One of my favorite Finger Lakes wineries, especially for light bodied, delicate, elegant wines. Lamoreaux Landing controls over 100 acres of planted vineyards on the eastern hillsides of Seneca Lake. These holdings are separated into more than 20 different vineyard blocks, and are intensely managed to yield only the finest lots of estate-grown fruit for our award-winning, cool-climate, estate-bottled varietals. Lamoreaux manages estate vineyard blocks of Chardonnay and Pinot Noir among many others.
Blanc de Blanc shows delicate pear and lemon flavors with layers of toasted bready complexity. It has a lively acid structure, and a lingering creamy finish from three years spent "en tirage" on the yeast lees. Refreshing and refined, it is a classic sparkling wine. "Classic 100% Chardonnay with Bartlett pear and a buttery tart crust. The freshness and the tickle of acid made this a success," wrote Tracey Weiss for NY Cork Report.
Trump Winery (VA)
Sparkling winemaker, Jonathan Wheeler, and wine consultant, Laurent Champs (owner and Champagne Master at Vilmart et Cie in Champagne, France), made this Méthode Champenoise brut Blanc de Blanc wine from the estate's best Chardonnay grapes. The grapes were hand-picked and pressed gently using a Champagne press. Only the cuvée (first press) was fermented in stainless steel tanks. After bottling, the wine was aged on its lees for over 22 months to gain more complexity. A very low dosage was added at disgorging to complement the wine's freshness. Rich, creamy, with a bright acidity, this Blanc de Blanc features a great stoniness while also offering a floral nose that hints at lemon custard and pears. Fantastic! The sparkling Rosé wine is made via Méthode Champenoise with estate grown Chardonnay and Pinot Noir. The grapes were picked at night by hand and gently pressed. After a combination of stainless steel and French oak barrel aging, the wine was aged on the lees in the bottle for 22 months. A gorgeous salmon colored wine, rose petals, blackberry, and light toast all come through as promied. The crisp acidity and nice minerality. The Blanc de Noir brut sparkling wine is made via Méthode Champenoise with 100% estate grown Pinot Noir. The grapes were picked at night by hand and pressed right away to avoid any color extraction and to preserve the fruit. After a combination of stainless steel and French oak barrel aging, the wine was aged on lees in the bottle for 36 months. Pair and toas come through on the nose as promised. Big and complex. Lovely!
Veritas Winery

(VA)
Veritas Winery, a family business owned by Andrew and Patricia Hodson, opened for business in June 2002; with the help of their three children Emily, George and Chloe at the foot of the Blue Ridge Mountains. Veritas wines are all of high quality. Winemaking is the domain of Andrew and daughter Emily, who has a Masters in Enology at Virginia Tech, Emily joined the family venture full-time.
Scintilla is a brut sparkling wine made in the traditional method that is used in Champagne, where the second fermentation is completed inside of the bottle to trap the bubbles. Scintilla is also a Blanc de Blancs style, which means it is comprised of 100% Chardonnay. This is a rich golden colored wine with tiny elegant bubbles. Lemon, green apple and pear, accented by a touch of yeast and toasted brioche all come through as promised. Bright acidic finish. Nice lingering after taste. Lovely. Elegant.
Heritage Vineyards (NJ)
Heritage Vineyards is a family owned and operated estate vineyard and winery located in Mullica Hill, New Jersey. Mullica Hill is located in the heart of the Outer Coastal Plain American Viticultural Area (AVA). Recently named New Jersey's "Winery of the Year" by the Garden State Wine Growers Association, Heritage has begun cementing its reputation as a benchmark producer in New Jersey's largest wine growing region.
Cuvée Blanc, 2nd Edition, is a bright and elegant blend of 74% Chardonnay, 16% Sauvignon Blanc, 6% Chenin Blanc, 2% Pinot Gris & 2% Albarino. Citrus, melon & ripe pineapple; flavors of ripe apple, lemon custard & freshly baked sugar cookies all come through as promised! Great acidity, and a nice finish that lingers. Lovely!
Cuvée Rouge, 1st Edition, is a smooth and intriguing non-vintage blend of Syrah, Merlot, Chambourcin, Grenache & Cabernet Sauvignon. Dense red-purple color. Ripe, dark berry fruit and toasty oak; flavors of raspberry and cherry with hints of dark chocolate, suede leather and baked croissant all come through as promised. Different and very, very good!
Other honorable mentions: Millbrook Winery (NY),

Whitecliff Winery (NY), Boordy Vineyards (MD), Wolfer Estate (NY), Bedell Cellars (NY), Tomasello Winery (NJ), Alba Vineyards (NJ), Hudson-Chatham Winery (NY), Prince Michael Vineyards (VA), Paradise Springs Winery (VA), Barboursville Vineyards (VA), Afton Mountain Vineyards (VA), and Twin Brook Winery (PA).