I go to nature to be soothed and healed, and to have my senses put in order.
-

John Burroughs (1837 - 1921)
John Burroughs, one of America's first great natural historians, was an avid grape grower in the Hudson Valley. In his later years he was known as the Vine Dresser of Esopus. Burroughs grew all manner of grapes, but especially native rapes and other hybrids developed by regional hybridizers.
According to Wikipedia,
"

John Burroughs (April 3, 1837 – March 29, 1921) was an American naturalist and essayist important in the evolution of the U.S. conservation movement. According to biographers at the American Memory project at the Library of Congress, John Burroughs was the most important practitioner after Henry David Thoreau of that especially American literary genre, the nature essay. By the turn of the 20th century he had become a virtual cultural institution in his own right: the Grand Old Man of Nature at a time when the American romance with the idea of nature, and the American conservation movement, had come fully into their own. His extraordinary popularity and popular visibility were sustained by a prolific stream of essay collections, beginning with Wake-Robin in 1871. In the words of his biographer Edward Renehan, Burroughs' special identity was less that of a scientific naturalist than that of "a literary naturalist with a duty to record his own unique perceptions of the natural world." The result was a body of work whose perfect resonance with the tone of its cultural moment perhaps explains both its enormous popularity at that time, and its relative obscurity since."
The Hudson Valley saw many great grape growers before the turn of the 20th century. Underhill and Caywood were but a few. These men were heroes to Steve Casscles of Athens, New York.
The Casscles family dates back generations in the Hudson Valley. Casscles worked in the brick making factories, like those of Robert Underhill, as well as grew and shipped fruit down river to new York City.
The Underhill wine caves at Croton Point.
Steve Casscles was born in Middle Hope, New York. And to see him during the day, donned in his armor of button down shirt, tie, and khakis, amid stacks of papers, in law offices in the capitol building in Albany, one would never know his true calling. With his bushy gray-white beard and his horn-rimmed glasses, and his guffawing laugh, Steve is as affable and chatty as his is studious and accomplished. He can alternately be very serious and forthright, or comical and laughing, using his hands to talk, and tilting his head back in great balls of laughter. And he is as much a historian, especially knowledgeable about the Empire state's history, as he is an expert horticulturalist whose specialty is heirloom grapes, and other heirloom fruits.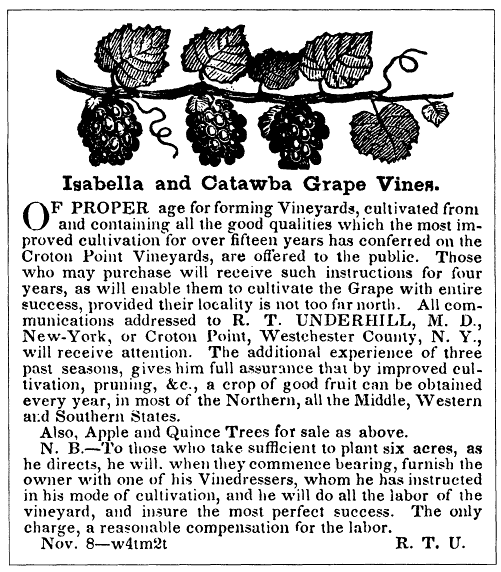 He graduated Marlboro Central High School, attended the State University of New York, Albany, and got his law degree from Northeastern University School of Law. Ever the individualist, as a young man, rather than visit Europe, he traveled India and Nepal. He has been counsel to various New York state senators for more than 20 years, including senators William J. Larkin Jr. and Jeffrey D. Klein, the current Deputy Majority Leader.
His specialty is insurance and healthcare practices. Covering this subject, Steve has for most of career worked with doctors, hospitals, and state agencies to address the problems facing these groups, while also confronting issues of state and federal monies as well. At the same time he was also instrumental in writing numerous laws, including those requiring children to wear helmets while skate boarding, to reduce serious head injuries.
He also has a background in real estate law, land use & zoning, and contracts, and has worked with many zoning boards and planning committees up and down the Hudson Valley, helping to resolve issues and donating time to participate in municipal boards of varying kinds. He is an accomplished professional who is recognized in the corridors of power, and the courts of the region.
Of course, scratch a little deeper, and Steve's real passion starts to show through. During his career, Steve has participated in and written many laws involving agriculture and winemaking in the state of New York, and the Hudson Valley as well.
In 2002 he worked with Greg Quinn, of the Hudson Valley, to overturn a 100-year ban on the growing of black currants. Quinn was the passionate driver in this quest. Black currants had been run out of the state by the logging industry at the turn of the previous century when it was discovered they served as intermediate hosts of blister rust, a disease destructive to white pine, a staple of the logging industry. Over the years research proved that certain conditions had to exist for this to be true, and new, disease resistant berries were introduced many years later.
Quinn worked with Steve McKay of Cornell Extension and Casscles to overturn the ban.
"He said, ''We've got to do something,'" recalled Casscles, who was then counsel to State Senator William J. Larkin Jr., who introduced the bill that overturned the ban in 2002. "He came up here, and he would talk to anybody who would listen," continued Steve.
Since then, currants have become a big crop in the Hudson Valley, and Hudson Valley artisanal cassis has since become one of the signature wines of the region, numbering well above 20,000 bottles a year at prices fetching as high as $40 for a 375ml bottle, also known as a "split" in the wine industry since it is half the usual amount found in a standard 750ml wine bottle.
In 2005 he co-authored, along with State Senator William J. Larkin, Jr., the report A Proposal For Renewed Growth of the Hudson Valley's Grape And Wine Industry, which suggested remedies and proposals to improve the wine industry in the Hudson Valley. There were many measures in the report that were eventually adopted which have helped turn around the Hudson Valley wine landscape.
He authored several papers on increasing wine tourism, and helped to shape the language of the laws, again introduced by Larkin, which allowed for Beverage and Cuisine trails around the state, and improving farm winery laws, allowing those businesses to operate with more flexibility and encouraging satellite operations so those businesses could expand.
With all these accomplishments and duties compiled, Steve could easily rested on these very substantial laurels. But Steve is a man of industry. All you have to do is see him walking, whether in the marbled halls of the capitol building or across the furrows of a farm, Steve's arms swing up and down, as his legs pump methodically as he strides confidently forward. You think to yourself, this is the way you imagined Teddy Roosevelt walking.

All one needs to do is to go to Steve's house to get a sense of the real man. He is a man obsessed. He lives, with his wife Lilly Casscles, an accomplished psychologist who received her PhD in Clinical Psychology from Oklahoma State University, and their children, sons Ben and Noah, and their daughter Grace.
Their picturesque Victorian house, sits atop a small hill, whose drive way juts up off the main road before them like a steep ramp directly to the second floor, which sometimes seems more appropriate for four wheeling than a mini-van. The house and backyard are filled with cats and dogs, chickens and rabbits. He and family are campers, and he and his sons like to fish together.
Surrounding the house are vineyards in every direction. If there is enough room for a plant, some kind of vine is growing there. He is mad about grape growing. He insists he only learned how to make wine so he could do something with each year's crop. He grows all kinds of grapes.
And of course, the grapes Steve grows tell you even more about him. Steve grows hybrids of all kinds, from Baco Noir to Marchael Foch to Chambourcin. There is no Chardonnay growing, no Merlot nor Pinot Noir. But growing there are all manner of experimental grapes, heirloom rapes, and other long discarded by commercial growers. He marches up and down his rows, addressing first this one and then that one. In any row he might have as many as three to four experimental grapes growing at any one time.
Steve is a grape historian, who for three or four years has been working on an intense project, cataloging all the grapes of the state of New York and the Hudson Valley, and writing down the histories and tendencies of each grape, along with the biographies of the hybridizers of the Hudson Valley and of the greater region.
Steve's affection for grape growing and winemaking began at Benmarl Winery in Marlboro, New York. There he worked for Mark Miller, who was the man who was instrumental in getting the Farm Winery Act put into law, and who was rewarded with license No. 1. Steve also worked alongside Eric Miller, the founder (with his wife Lee) of Pennsylvania's largest and most successful winery, Chaddsford Winery.
While at Benmarl, he became an avid fan of Baco Noir, Benmarl's most successful and popular wine. Baco Noir is a French-American hybrid grape, (pronounced BA-koh NWAHR), produced from a cross of Vitis vinifera var. Folle Blanche, a French wine grape, and an unknown variety of Vitis riparia indigenous to North America.
Baco Noir grows well in the Hudson Valley. It is winter hardy, relatively disease resistant, and is not attractive to Japanese beetles (which makes it alternately attractive to farmers). The grape produces a medium body, deeply tinted, slightly acidic red wine which is fruit forward and often carries aromas of black fruits and caramel. Ageing potential is from 5 to 15 years in good vintages. If done with the same style, it makes a wonderful Burgundian or Rhone-ish styled wine. Among wine experts, hybrids are somewhat frowned upon – lesser vassels to the "Noble Grapes" such as Chardonnay and Cabernet Sauvignon. But that is Steve in a nutshell. His is an individual. And he is a true believer. He has the convictions of John Brown, and the sense of humor of Ernie Kovacs.
In 2006, Steve joined forces with the Hudson-Chatham Winery, and launched a series of wines. Instead of making more and more wine he could not possibly drink, Casscles sold the fruit to the winery, and then started making the wines at the winery. His Baco Noir Reserve, the best two of three barrels, is the winery's signature wine, which has garnered numerous awards, and rave reviews from columnists, wine writers, and bloggers. Since then, he has also made Baco Noir Old Vines, from 60-year old vines from another farm, which has found its way into restaurants from Saratoga to New York City.
In any harvest season, Steve can been seen picking grapes, as well as leading the pressing of the grapes. In his signature white rubber boots (the same ones they use on shrimp boats) Steve authoritatively strides across the crush pad, directing traffic and tasting the grapes. His sons Ben and Noah work side-by-side with their father. Both have done so all their lives, sometimes begrudgingly, but each already incredibly savvy winemakers while still only in their teens. Steve's winemaking is different than more clinically trained winemakers. He is more a brilliant self-taught cook rather than being comfortable while seated at a lab bench. Steve tastes the grapes as he goes through the harvest and as they go through the crush pad. He crushes large batches of the grapes in his hands to get a feel for the fruit, and to smell the juices of the grapes, and taste their sugars. It is not unusual to see him roll up his shirt sleeves all the way, and to dig to the bottom of a fermenter with his hands to get a feel for that particular batch's grapes. Only then does he decide which blend of yeasts he will use to make the wine.
Steve is not a technical winemaker. There is a great story about Steve. Hudson-Chatham had hired a larger winery to crush one large haul of grapes. Steve was dispatched to oversee the process. When he got there, there on a large table were all the readings – Ph, sugar levels, etc. Steve asked to see the fruit. When asked why, all the readings were in front of him. Steve insisted he see the fruit. A small stand-off occurred. Vexed, the winemaker brought Steve to the fermenter. Steve then, rolled up his sleeves, and began tasting the batch and feeling the grapes. The other winery workers were astounded. Only then did the wine get made.
Casscles Vineyards
In his second year with the winery, Steve reintroduced a now little grown grape, Chelois, to instant rave reviews. Chelois, like Baco Noir, is a French-American hybrid grape. The wine eventually worked its way on the Culinary Institute of America's wine list, and an on air tasting by celebrated wine author Steve Kolpan on WAMC, the region's dominant public radio station. The wine was compared to top growth Pinot Noirs from Burgundy. His wines have been reviewed with great results in Wine Spectator, Wine Enthusiast, the New York Times, Sommelier Journal, and numerous others. He's won dozens and dozens of medals from wine competitions. The wines he makes are served in numerous shops and restaurants from Saratoga to New York City.
Middlehope Vineyard
His newest endeavors included a small but growing nursery business, where he grows many grapes, bringing back many more varieties long since out of use. He is passionate about the many grapes first introduced here in the Hudson Valley, as well as grapes introduced by other hybridizers throughout New York state. He has a long relationship with the Cornell University Experimental Station at Geneva. Winegrowers and Cornell professors have visited his vineyards to examine the plants and rediscover these grapes.
Steve has developed several new grapes as well. He will introduce these new grapes in the coming seasons. He makes wine with his small plantings. He wants to perfect making the wine before he releases them. Using cuttings, he also propagated more vines. So successful did he become that he is now growing a full block at the winery's vineyards, which he hopes to introduce as a single varietal soon.
His next bottling was an heirloom project, a series of wines, in small batches, from 25-50 cases, of wines made from grapes more or less no longer in use by the wine industry. These include Dutchess, Iona, Isabella, and others, as well as a series of
odd, unnamed grapes from various growers over the last 40 years, including those of Philip Wagner. These are all heirloom grapes, hybridized by experts around the country over the last 100-plus years. The idea is to try new flavors and ideas, but also to remember the wines and the people who came before us. Casscles' push is as much about new tastes and textures as it is about history and memory. Steve is the state's greatest living authority on grapes and grape growing.
Another of this indefatiguable man's projects is a nursery business. Casscles knows what he has is valuable, and other people want it. To that end, he has started a nursery to propagate the plants in his vineyard and is selling them to other wineries. His nursery business, according to him, is more successful and remunerative as his winemaking. And of course, it has the benefit of turning out more hybrid and heirloom apostles.
But more than anything Steve is happiest when he is home, walking among the rows of his vineyard, seeing the progress of each plant and noting the strengths and weaknesses of each vine. Some are blocks of single vines (Baco Noir, Chelois), while some are single vines that exist nowhere else. He works with them, makes notes, and continues his work on his master treatise…and thinks about which grape he will champion next.
The lesson which life repeats and constantly enforces is 'look under foot.' You are always nearer the divine and the true sources of your power than you think.
When I think of Steve walking his vineyards, the place where is very much his happiest, I think of him, and I think of John Burroughs, two men inextricably linked to their surroundings, their vineyards and their land, and the Hudson Valley.

p.s. Full disclosure, I work with Steve at Hudson-Chatham, but I believe he is ultimately and highly worthy of such praise independently of our mutual involvement for what he has accomplished in his career