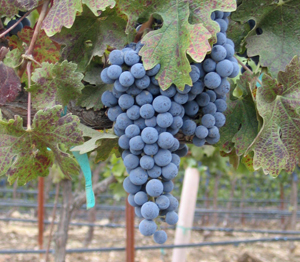 Below is an article by David Falchek written in October of 2007. David is an excellent writer, and his ideas and concerns have been voiced from that period to now. He recently reposted this older article to ask where are we today? It could not be better timed or a question better asked. His timing is impeccable.

From my point of view, the same conversation is continuing. While some vintners in Long Island and Maryland/Virginia might be able to pursue a more Bordeaux like style with marked success, the Loire is defintely where I see most of the East Coast should be going.
Great examples of successful Bordeaux-styled Cabernet Francs? Pellerini Vineyards, Red Newt Cellars, Millbrook Vineyards, Roanoak Vineyards, Barboursville Vineyards, Pollack Vineyards and Veritas among many. These folks have figured it out and are absoultely making some lovely wines.
But there are alot still who aren't.
I once asked, before I knew better, why there was so much green bell pepper in the east coast Cab Frans. The winmaker gave me a dirty look. And so he should have. I should have asked someone like Gary Pavick, Joe Fiola, or one of the folks from Cornell.
This issue is still a problem for some vineyards, not for others. But still imortant enough that it was still a topic of discussion at Eastern Wineries Exposition 2013 recently. Some vineyard managers and winemakers feel they were talked into planting the grape, and now feel stuck with it. Today, there are munerous things winemakers and vineyard managers are doing to improve wine quality - aggressive leaf pulling, crop management, planting new vines much closer together, reducing yield, better canapoy management, and a better understanding of when to harvest and how to make the wine.
Despite this, I feel more and more winemakers have not sought the Loire aspect of this grape...and should seriously consider doing so. A great example is Lamoureaux Landing's Cab Franc (that I thought was too thin the first year I tried it, and that I thought was 'genius' two years later), Sheldrake, Bedell Cellars Cab Franc (slightly darker, but Loire nonetheless), Billsboro Cab Franc, Whitecliff Cab Franc, and several others.
The east cost should embrace the Loire. It simply refuses to, since Americans are so much more familiar with Bordeaux. But we must educate and we must adavance.
Great article by David. A great time to revisit. - C. DeVito, East Coast Wineries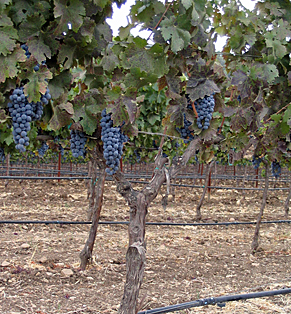 Is Cabernet Franc the Cinderella
of the Vineyard?
Not anymore. Eastern U. S. and Canadian Cabernet Francs are coming into their own.
by David Falchek
October 3, 2007
In Sideways, which has become - for good or for ill - the best known wine movie, the main character Miles massacres Merlot, praises Pinot, and in a lesser known aside, takes on Cabernet Franc.
"I've come to never expect greatness from Cabernet Franc, and this one is no different." Many in eastern wine producing regions share that view about the grape variety which was promoted two decades ago as the Great Red Hope.
David Falcheck
Eastern Cabernet Franc hasn't lived up to that hype. Many come off as "green" with off-putting weediness. They can be thin in body, with barely a wisp of fruit. Oak often dominates, used in a vain attempt at Bordeaux mimicry or to barrel-over weediness. Many new vintners, hastily opening up wineries and planting vineyards, taste their neighbors' lackluster attempts and reject Cabernet Franc.
But hold on. Some still believe in the grape responsible for Bordeaux's great St. Émilions and delightful Loire Valley reds. The Franc faithful are stepping in before cool climate Cab Franc becomes a noble experiment. Recently, Penn State University Enology Extension Agent Steve Menke and a group of Pennsylvania vinifera growers and wineries called a day-long summit to look at what they did wrong and what they can do better.
What happened was a litany of wrongs. Most Cabernet Franc in the east is just wrong - the wrong clone on the wrong rootstock in the wrong site, with wrong viticulture practices made in the wrong style. For the growers and winemakers at the conference, the revelation that the fault lies in themselves and not Cabernet Franc was shocking.
"I've always said we would never achieve greatness with Cabernet Franc," said Virginia winemaking consultant Tom Payette. "Now I realize that we've stuck our kid in the mud. It's no wonder he can't run."
HOW COULD THIS HAVE HAPPENED?
In the 1980s, eastern red wine consisted mostly of French-American hybrids such as Foch and de Chaunac. Those who dared to attempt Cabernet Sauvignon and Merlot
Bursting with fruit, Cabernet Franc vines in cool climates still can have a slightly earlier harvest than might be assumed.struggled in the vineyard and bottled insipid wines. Cabernet Franc - extremely winter hardy and a slightly earlier ripener - had a good resumé in cool, moist, disease-prone climates, showing well in Cornell University test vineyards.
A delegation of Bordeaux winemakers, touring the Finger Lakes in the early 1990s, were skeptical of all the Cabernet Sauvignon and Merlot vineyards. Don't view Cabernet Franc as a supporting player in Bordeaux, they warned. Where it is well adapted, Cab Franc will surpass other Bordeaux varieties. The buzz had begun.
Sadly, this initial wave of interest predated the awareness of other critical issues, such as the grape variety's clone and the rootstock grafted to it. Today, combining clones and rootstocks allows hundreds of permutations suited for specific climate and soil. But back then, most growers, as Pennsylvania pioneer Dick Naylor confessed, had some Cab Franc tacked onto a nursery order with other varieties. Many aren't sure what clone or rootstock they have.
Most vineyards got the worst of both worlds: The California-adapted clone, CA4, grafted on vigorous rootstocks which, in the east's fertile soils, exacerbated Cabernet Franc's drive to overcrop, creating monster canopies that push outrageous yields. Growers didn't help. Most viewed Cabernet Franc the same way as prominent Pennsylvania grower John Weygandt of Stargazers' Vineyards does: "an iron clad grape." Cab Franc was relegated to the worst part of the vineyard. Choicest sites went to Merlot and Cabernet Sauvignon. The result: Green Giant wines with high levels of "methoxypyrazines", the chemical source of herbaceousness.
Eastern winemakers and growers commiserated with a kindred spirit from Anjou in the France's Loire Valley, Jean Hubert Lebreton, fifth generation winemaker at Domaine des Rochelles. He felt their pain. Loire had been a producer of bulk wines until the 1970s. His grandfather was one of the first to plant Cabernet Franc in Anjou, nudging the region toward quality.
"In France, they don't say 'Anjou,' they say 'Bordeaux' or 'Burgundy,' " he said. "But we have no tradition so we go faster in finding solutions. I think it is like that with you, here, competing with California."
Rochelles hired a geologist to drill throughout its vineyards, examine the hydraulics and the soil, and replant. They paired soils with appropriate varieties, clones and rootstocks. Soils red with iron and decomposing slate, for example, were matched with Cabernet Sauvignon. Friable green shist soil invited Cabernet Franc.
"We've done mistakes not matching varieties with soils," he said. Lebreton brought his Anjou Rouge L'Ardoise, 2006 and Anjou Village Brissac, 2005, both full flavored, medium bodied, oakless, balanced and delightful wines that impressed attendees. Several other Chinon and Bourgueil were poured. One had wet horse notes characteristic of Brett, but none could be described as overly green.
The unspoken message: Eastern Cabernet Francs should be modeled after Loire – not Bordeaux. As one winemaker lamented, the owner enjoys talking about his "Bordeaux-style wine." "Loire-style" just doesn't have that ring.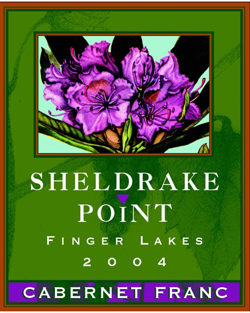 Some debated the "greening" of Cabernet Franc. Robert Madill of Sheldrake Point Vineyard in the Finger Lakes said that Europeans don't have a problem with herbaceousness; it's Americans and their affinity for tooty-fruity wines. Humans, no matter what continent they are on, are fine-tuned to detect pyrazines which provide a cue to fruit ripeness. Pyrazine sensitivity was so important in our evolution that the average person can detect one-tenth of drop in an Olympic-sized swimming pool, said Gavin Sacks, Assistant Professor of Enology at Cornell.
Some Sauvignon Blanc and Cabernet Sauvignons have high pyrazine levels, yet tasting panels don't find them objectionable. Fruitiness, Sacks said, offsets pyrazine's influence. Other "green" sources, such as fresh cut grass of hexanol found in grape stems, form a vegetative tag team that makes wine drinkers grimace. Ripe fruit and a clean harvest could help.
OK, SO HOW ARE THE CAB FRANCS TASTING NOW?
Sheldrake Vineyards in the Finger Lakes showed how Cabernet Franc could vary dramatically from year to year. Owner Robert Madill described 2004 as a "Bordeaux....
Read more of David at: